Dental diseases are the most prevalent chronic conditions in the United States and the major cause of loss of teeth in children and adolescents. Schools play a considerable role in the delivery of dental services to children.The school dental health program in Pennsylvania is an integral part of the total school health program. The goal of the Hazleton Area Dental Hygiene Service Program is to help each student attain and maintain a state of optimum dental health. The program goal is to educate the student in proper oral care,prevention of oral disease and sustaining good health.
Dental Examinations are state mandated in K,3 and 7, in addition to new entries to the district.
The Hazleton Area School District offers the services of the dental hygienist to provide a screening and complete the required paperwork at no cost. Permission forms will be distributed at school for the parent / guardian to select one of the following options:
Private Dentist-
Student will have routine check-up performed at their own private dentist.
Private Dentist Form
can be downloaded and taken to family dentist at the regular visit and returned to your child's school. On top portion of
Permission form
select private dentist and list name of your child's family dentist. The bottom portion of permission form or the private dentist form must be taken to family dentist to be completed.
School Hygienist
- Throughout the course of the school year the school hygienist moves from building to building. Permission forms will be sent home a few weeks prior to the hygienists visit. The hygienist uses a sterilized mouth mirror and dental explorer to complete the screening. All standard precautions, including gloves and mask, are used by the hygienist. At the sceening, a
report
will be sent home informing parent/ guardian of the condition of the child's mouth.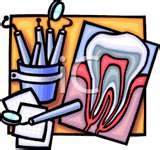 Parents/Guardians MUST complete a permission form in Grades K, 3 and 7.