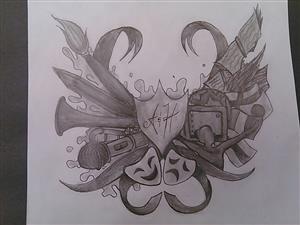 It has been so exciting having the honor to single-handedly develop our district's first honors-level visual arts program! My program is a completely separate entity from the regular high school Art Department. (The Academy overall is a school-within-a-school.) Many do not realize the very active role the arts take in our every day lives, and that there are many career opportinities out there where driven, focused artists can enjoy a very successful career!

My approach to the concept of honors art is that of developing individuality in conjunction with skill. My student displays (currently the case across from the cafeteria, and soon the showcase between the auditorium doors) do not look cookie-cutter...as if cloned from Pinterest. The children are given very broad guidelines, and then must take responsibility to be innovative to apply the elements and principles of design, media choices, and their own style to create a work that is visually successful and unique. Our ever-changing modern world is requiring workers to be more innovative in a variety of careers, and I seek to foster that in my program. The students are with me every day for 90 minutes all year (similar to AP courses), so we are able to be intensive and prolific, and I am able to truly get to know each student. I try to grade each student not in competition with each other, but in terms of demonstration of skill and progress within their own combination of stengths and weaknesses. The art teachers throughout the district have a varied approach to their programs, so the children come to me with a varied knowledge base...so I try to help them progress from there.

I believe community outreach is integral to helping the students be more aware of the world outside of high school. We have not only created art work for other groups within the school, but take part in community outreach. A complete list with photos are on the "Community Connections" page, and include connections such as window painting in downtown businesses, sponsor signs for Freeland Little League, Art Walk displays for First Friday, Veterans' Day Celebration, junior student teaching at an elementary, and helping to design and create the next several large murals in downtown Hazleton. Many other activities are being planned!

I feel that the students also need to be offered dual-enrollment opportunities, and eventually AP credits. So far, we have a partnership with LCCC where my current senior studio was able to take 3 FREE college credits in art the summer of 2017! No one earned lower than an A-! (Please see more on the separate page "LCCC Dual-Enrollmenet College Art Credits") It's wonderful to think that before many of these students even can drive a car, they have college credits! Through the wonderful efforts of muralist and professor Miss Mary Veronica Sweeney, the students were able to take the class for free. Miss Sweeney is looking to continue the program, where the students will also be learning mural arts and continuing the plans to create Hazleton's next large mural. Hopefully this summer I will be given the go-ahead by our administration to develop an AP Studio art class, where through an affiliation with a university, I will be able to help the students potentially earn college credits for their portfolio. I am also planning on chartering a chapter of the National Art Honor Society so that my students are able to have an even more impressive resume as they head into any endeavor after graduation!

Whenever possible, I integrate art with their other subjects. For instance, when the freshmen learn about Ancient Greece, I teach about Greek architecture and art, and then have the students design a piece that must incorporate mythology, and either an element of architecture or Greek Key design. The freshmen also create a work in the style of Ancient Chinese art, on rice paper, and includes at least one Hanzi character. Sophomores create a work in the style of ancient Egypt. All written work submitted must be in MLA format, to reinforce what their other teachers require. (Seniors eventually will move toward APA as well.) Final exam projects often require writing in conjunction with an art piece. Also, in my Honors/non-Honors Art History class, they not only integrate writing, but see how the artistic creations of humanity visually document and record the many facets of human history and culture...integrating those subjects.

Juniors are able to take Honors/Non-Honors Art history now that their PE credits have been earned. Since this is just a once-a-week class, we are only able to do a very light survey of art history, beginning with the ancient world. I feel that the more students are aware of the styles and approaches of other artists, the more they can in turn be introspective and develop their own unique place within the art world.

Our students are also able to compete in several different art competitions. A complete list with photos is on the "Art Competitions/Shows" page. Every year our students earn several awards! Create-An-Ad, Peace Love Chalk, Art Youth Expo, Congressional Art Competition, PA Renaissance Faire Advertisement Competition, Art at the Markle, and Vans National Shoe Design are among the contests we take part in and have won awards...and more are planned this year!

Each year we have our exciting Junior Showcase. Don't let the name fool you, this is a massive collaborative effort of the entire academy! The theme is new each year and always merges the performing arts with classic literature. It's always a wonderful night! The juniors had their framed art on easels in the lobby for all to seeand the showcase filled. Senior year we curate our own community art show as well as have a senior recital. Not only will thte visual art students have their art on display at the recital at the high school, but also have their own exclusive month-long community show in the lovely Hazleton Art League Gallery. We have opening night during First Friday celebrations when the community can stroll in and out and enjoy the show.

And this year we will have our second graduating class from the academy! I help my students as much as possible. I write letters of recommendation (regardless of their chosen area of study for college). I also had 4 college representatives visit my class exclusively here at the high school to review portfolios and make presentations about what that school has to offer and even career opportunities within the art world. We had several students show portfolio work that the reps immediately said was perfect for admission! Last we had all who appied to art school (11) accepted completely (some by multiple schools!), and the scholarships are starting to rolled in...one received full tuition!